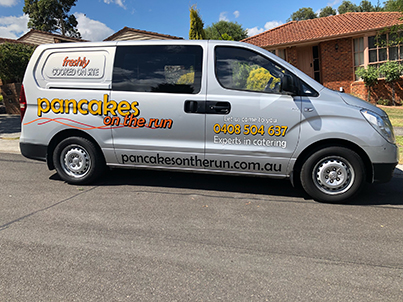 Pancakes are cooked fresh onsite, at any event you may hold ! We use gas operated hot plates and are served directly from the hotplate.
"Seeing us freshly cook the pancakes is an event in itself ! We have fun doing it, so you will enjoy the experience "
Our equipment is designed to go Indoors or Outdoors.
* The Boardroom for Breakfast
* Out on the Garden for Lunch
* Beside the pool for Dinner
These are just a few examples of the versatility of Pancakes On The Run.
We provide Plates, Cutlery and Serviettes for your convenience.

We clean up as well, letting you enjoy your function, all at NO EXTRA CHARGE!
Pancakes are available in:
    Single Stack – one pancake
    Short Stack – two pancakes
    Regular Stack – three pancakes
These are served with ice-cream and your choice of maple syrup, strawberry jam or lemon sugar.
Booking minimum 70 persons for Sweets
Booking minimum 50 persons for Savoury
Contact Us at Pancakes on the Run